Memorial for Weber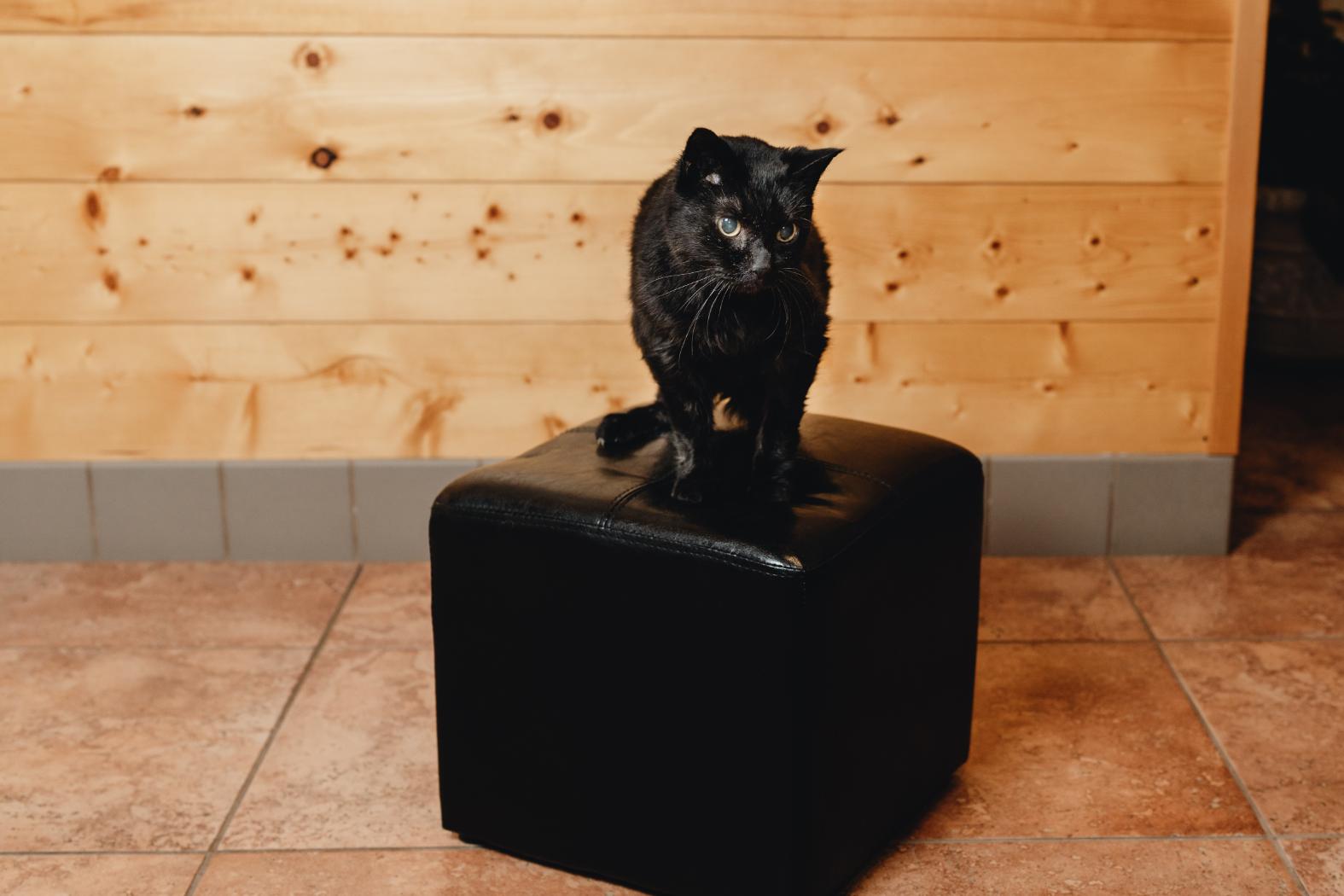 In loving memory of Weber, 9/1/2003 – 4/9/2023
It is with heavy hearts that we announce that our clinic kitty, Weber, has crossed the Rainbow Bridge.
In the fall of 2003, the tiny kitten ran, frantically trying to escape the searing pain in his lower body. His tormentors had poured gasoline on him and lit him on fire. They chased him but were slowed, forced to extinguish the small brush fires started by the kitten as he ran through the weeds to the cover of the woods. He hid and survived the night, to be found the next day by one of the five in the group of abusers. The young woman took the kitten to the Oneida County Humane Society whose director brought him to us to determine if he could be treated or humanely euthanized. Pure black in color and 8 weeks old, the 2 pound kitten was severely burned from the base of his tail to the toes of his rear legs. Amazingly, after his first treatment he was purring, affectionate, eating, and interested in the other patients when he walked by their hospital cages. The kitten submitted to his wound treatments and took his medicines without fuss, as if happy for the attention. He showed little concern or discomfort from his injuries. We decided to continue treatment.
He was given the name Weber and in the following weeks he had multiple surgeries to remove his scarred tail, anus and anal glands. He had reconstructive surgery at Fox Valley Animal Referral to allow him to defecate. When the scarring contracted his legs and prevented him from straightening them, tissue was reconstructed, allowing him to continue walking. Webbie's attitude throughout was amazing, nothing seemed to bother him. The generous people of our north woods communities gave monetary donations, cards, and encouragement to Webbie for his recovery.
Webbie recovered from his injuries, but not completely. The specialized care he required prevented his being placed with a family, so he lived his life with us at Northern Paws Animal Hospital. There, he seemed to adopt the clinic life of his caretakers. He went from room to room, greeting pet owners, he comforted sick patients, sat with grieving pet owners, and provided support for the staff for nearly 20 years. He became our mascot, our co-worker, and our friend.
On April 9, 2023, in stark contrast to his beginning, Webbie left this world surrounded by the broken hearts and tears of those who loved him. Weber was more than just our clinic cat, he represented the generosity and the caring hearts of the good people of our communities. He taught us that even though he had endured unimaginable torture, trust was still possible.
If you would like to honor Weber's memory, please reach out to your local rescue, humane society, or wildlife rescue in his name.